It's here, well almost, Ableton Live 9 is on it's way and looks pretty darn good. Obviously every Ableton enthusiast is going to be excited by this, it's like your favorite band bringing out a new album after a few years in the wilderness. So, the burning question is what is new in Ableton Live 9, and what is improved?
Oh god, even the box looks amazing: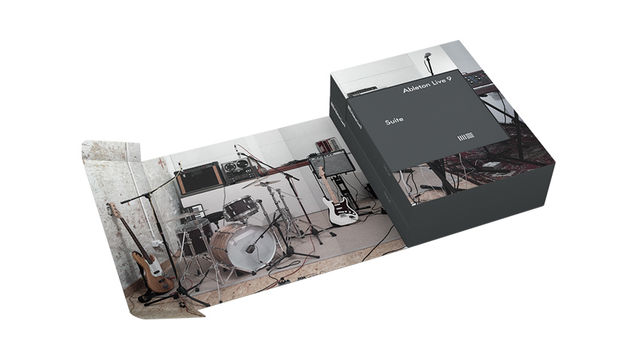 Ableton Live 9 features
Record automation into clips. Edit automation with curves
New browser to find sounds, effects, instruments fast
NEW Glue compressor
Redesigned studio effects

EQ 8 breakout display, audition mode, adaptive Q, improved filters
New amazing looking compressor display
New gate display and controls

NEW audio to MIDI tools – Drums to MIDI, Harmony to MIDI
Improved MIDI note manipulation

Invert/reverse/transpose
Speed up, slow down and reverse MIDI notes
Easy automation in clips
Automation curves
Envelopes in MIDI clips can be stretched using MIDI stretch markers.
editing grids are now "sticky"

MAX for Live included in Suite

24 instruments and effects included
Too many things to list, hugely powerful addition
Obviously all the old features are there and apparently the audio engine has been improved, sounding warmer and richer, something Ableton really does need.
The standard edition of Live 9 will cost 349 euros, which isn't that steep, but unfortunately doesn't include MAX for Live, and only comes with 3 instruments. For the full suite you're looking at a price tag of 599 euros which is quite a bit more, but you definitely get your money's worth:
All features

9 Instruments

Analog, Collision, Electric, Operator, Sampler, Tension, Drum Rack, Impulse, Simpler, External instrument

40 Effects

3000+ Sounds (50GB)

Max for Live
Ableton Push control surface
Along side the release of Ableton Live 9 there will be a brand new control surface called the Push, and it really looks like the perfect companion. Novation and Akai probably won't be too happy about it though.

This looks pretty amazing with velocity sensitive pads, rotary knobs, step sequencer, there are endless opportunities to tweak, adjust, play and record. This piece of kit will set you back 499 euros when it is released, which is a little higher than some competition, but it really looks like it will integrate so tightly with Ableton, the price is probably worth it.
I want both of these right now… so very, very much!
All this should be available in early 2013, although the Live 9 release date has not been confirmed.